A 20-year-old Black man, Daunte Wright, fatally shot by police in the US city of Minneapolis has led to angry protests, which markedly turned violent as protesters clashed with law enforcement.
The site of the shooting was near where George Floyd was killed last year.
Angry protesters in their hundreds, confronted police in riot gear on Sunday night, hours after the officer shot Daunte Wright in his car in the Minneapolis suburb of Brooklyn Center.
Some angry protesters could be seen carrying a sign demanding "Justice for George Floyd."
Teargas were fired and a curfew imposed as the protesters clashed with the police. Brooklyn Center's mayor issued a curfew that lasted until 06:00 (11:00 GMT), telling people to "be safe, go home".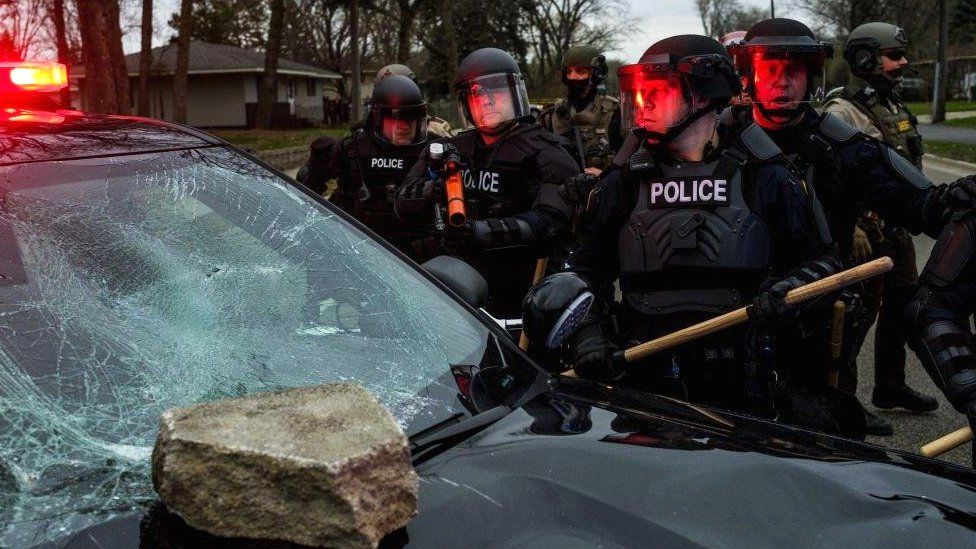 What happened to Daunte Wright?
A statement released by the Brooklyn Center Police Department, said officers had pulled a man over for a traffic violation on Sunday afternoon and determined that he had an outstanding arrest warrant.
They said that when police tried to arrest him, he re-entered the vehicle.
An officer then shot the driver, who drove on for several blocks before he crashed into another vehicle. He was pronounced dead at the scene.
A female passenger in the vehicle suffered non-life-threatening injuries.
Police said the officers involved were wearing body cameras, and dash cameras had also been activated.
Mr Wright's mother, Katie, said her son had called her during the traffic stop and he said he had been pulled over because of "air fresheners hanging from his rear-view mirror". She said she then heard scuffling and the phone line was cut.
"A minute later, I called and his girlfriend answered, who was the passenger in the car, and said that he'd been shot… and my son was laying there lifeless."
She said her son's body had been left on the ground by officers, adding: "Nobody will tell us anything. Nobody will talk to us… I said please take my son off the ground," the StarTribune reported.
Mayor Elliott said the shooting was "tragic" and Governor Walz said: "Our state mourns another life of a black man taken by law enforcement."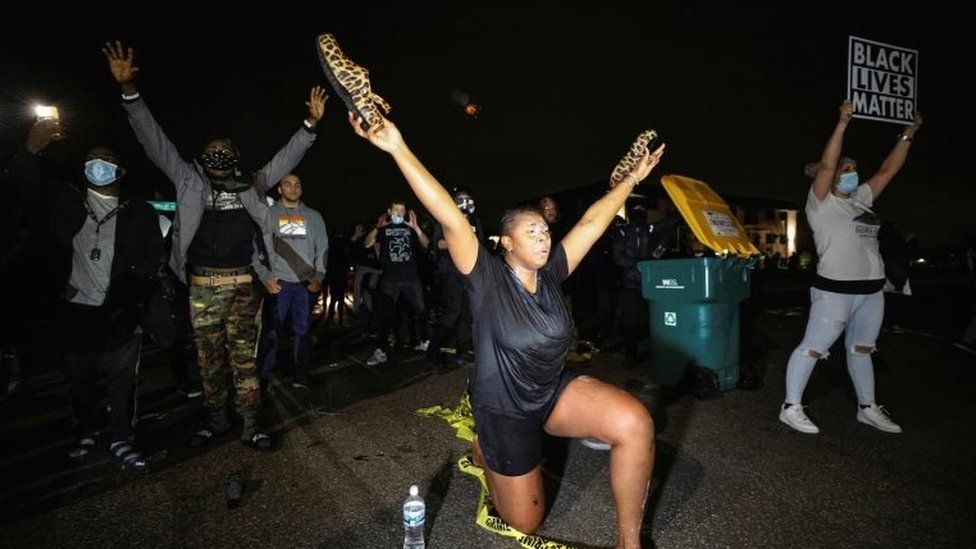 A 'tragic' shooting
Public mourners included Wright's family and friends who gathered, wept and consoled each other alongside protesters who carried "Black Lives Matter" flags, jumped atop police cars, confronted officers, and walked peacefully in columns with their hands held up.
On one street, "Justice for Daunte Wright" was written in multi-coloured chalk.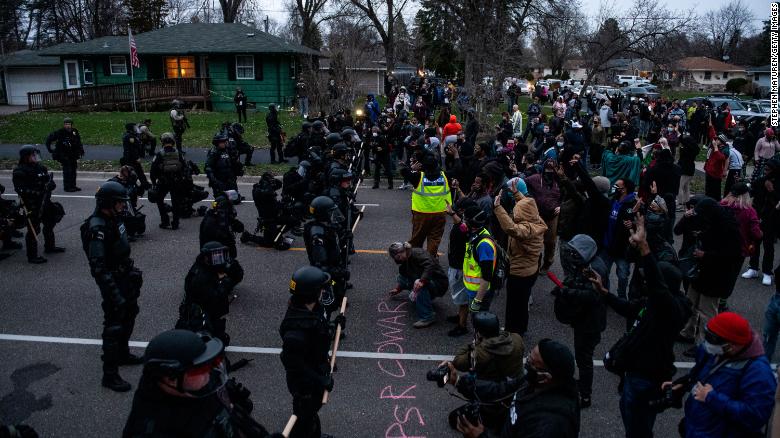 Mike Elliott, the mayor of Brooklyn Center, called the shooting "tragic".
"We are asking the protesters to continue to be peaceful and that peaceful protesters are not dealt with force," he said on Twitter.
Minnesota Governor Tim Walz said he was monitoring the situation closely.
"Gwen and I are praying for Daunte Wright's family as our state mourns another life of a Black man taken by law enforcement," he said on Twitter.
The tragic event coincides with the trial of Derek Chauvin and three other officers involved in the fatal killing of Black man, George Floyd.
The American Civil Liberties Union of Minnesota described the initial details of the shooting as "troubling".
"The ACLU-MN has deep concerns that police here appear to have used dangling air fresheners as an excuse for making a pretextual stop, something police do all too often to target Black people," the group said in a statement. "The warrant appears to be for a non-felony."
It called for a "transparent and independent investigation by an outside agency other than the Brooklyn Center Police".
The ACLU also appealed for the "quick release of any body-cam footage" and "the naming of all officers and agencies involved".
Schools closed
Brooklyn Center Community Schools announced that schools will be closed Monday and move to distance learning "out of an abundance of caution" following the shooting, Superintendent Dr. Carly Baker wrote in a message posted on the school's website.
"I haven't entirely processed the tragedy that took place in our community and I'm prioritizing the safety and wellbeing of our students, families, staff members and community members."
NEWS/PHOTO SOURCE: CNN | Al Jazeera | BBC | Getty Images