White former Minneapolis officer Derek Chauvin was convicted on Tuesday of the murder of George Floyd, after he was found guilty of second-degree murder, third-degree murder and second-degree manslaughter.
The death of Mr. Floyd spurred the largest civil rights protests in decades, as his homicide has been a symbol of police brutality against minorities in the United States.
The family of Floyd and the teeming crowd of supporters described the verdict as a "victory for justice"
After three weeks of a high-tension trial in this city in the north of the United States, the 12 jurors of various ethnic origins, who had been deliberating since Monday, concluded that the accused was guilty of the three charges against him.
Derek Chauvin, donning a face mask, remained emotionless as the verdict was read. The 45-year-old officer, who was already dismissed from the police force, was immediately handcuffed and taken into custody.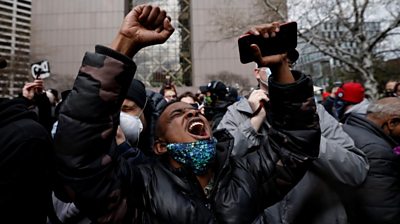 Judge Peter Cahill will hand down his sentence in eight weeks. Derek Chauvin faces 12 and a half years in prison but his sentence could be extended if the magistrate concludes that there are aggravating circumstances.
And while Chauvin had been out on bail since October, Cahill revoked Chauvin's bail after the verdict, so he will now await sentencing in jail.
"It is a victory for those who fight for justice against injustice" as well as a "turning point in history", welcomed the lawyer Ben Crump, surrounded by the Floyd family. "We leave Minneapolis knowing America is better."
He added, "We frame this moment for all of us, not just George Floyd. This is a victory for those who champion humanity over inhumanity, those who champion justice over injustice, those who champion morals over immorality."
"We needed a victory in this case, it was very important and we got it," Rodney Floyd, one of George Floyd's brothers, told AFP. "Maybe we'll breathe a little easier now," he echoed his brother.
Another Floyd brother Philonise said: "Being able to know there is justice for African American people, just people of colour, period, in this world. This is monumental. This is historic. This is a pivotal moment in history."
LaTonya Floyd, George Floyd's sister, said, "I feel like heaven is standing on my shoulders. My brother got justice, and that's very rare."
George Floyd, moments before he passed on, exclaimed "I can't breathe," after Chauvin had his knee stuck on his neck for over 9 minutes. That cry has become a global slogan against racism and law enforcement abuses.
In a speech, Joe Biden denounced the racism that "taints" the soul of America. "'I can't breathe'. Those were George Floyd's last words. We cannot let them die with him. We have to keep hearing them. We must not turn away. We cannot turn away. This can be a moment of significant change."
"The guilty verdict will not bring George back" but this decision may be the time for "significant change", he added. The President had earlier phoned the family of George Floyd.
Reacting to the verdict, Vice President Kamala Harris said, "Racial injustice is not just a black America problem or a people of colour problem, it's a problem for every American. It is keeping us from fulfilling the promise of liberty and justice for all."
Former US president Barack Obama said: "Today, a jury did the right thing. But true justice requires much more. Michelle and I send our prayers to the Floyd family, and we stand with all those who are committed to guaranteeing every American the full measure of justice that George and so many others have been denied."
The news was well-received by a host of politicians, celebrities and protesters around the U.S. and beyond. The sentence has been praised as justice well served.
NEWS/PHOTO SOURCE: AP | CNN | BBC