Capitol police officer identified as Eugene Goodman has been hailed as a hero, as footage of the deadly riot showed him applying restraint as White Trump supporters chased him up a flight of stairs.
Mr Goodman is then seen glancing towards the Senate entrance before luring the men in the opposite direction.
The riots led to the death of five people, including a police officer.
Outgoing President Donald Trump had incited a mob of MAGA supporters to disrupt the ceremonial vote count conducted by the Electoral College to affirm Joe Biden as the winner and 46th President of the United States on 6 January.
The mob surprisingly broke through security and caused damage to the Capitol building.
Footage show some white police officers abetting the rioting mob as they stormed the esteemed federal facility.
Prior to the Capitol siege, Trump had reiterated his false claims about election theft and irregularities in the just-concluded US Presidential election, egging on his supporters to "fight like hell" to recover his "stolen" mandate. Donald Trump Jr. had previously called for "total war."
The chief of the Capitol Police, Steven Sund, resigned last week following criticism over his force's response to the riots, including a public call from top Democrat Nancy Pelosi for Mr Sund to step down.
According to the Acting US Attorney Michael Sherwin, the Justice Department will consider pursuing criminal charges against any Capitol police officers found to be complicit with the rioters.
A white police officer Howard Liebengood, 51, who was on duty during the riots, died by suicide on Saturday, his family has said.
The show of bravery from Mr Goodman, reportedly an Army veteran who spent time in Iraq, has been hailed across America and a bipartisan group of Congressmembers have introduced a bill to award him with the Congressional Gold Medal, an honour of high distinction.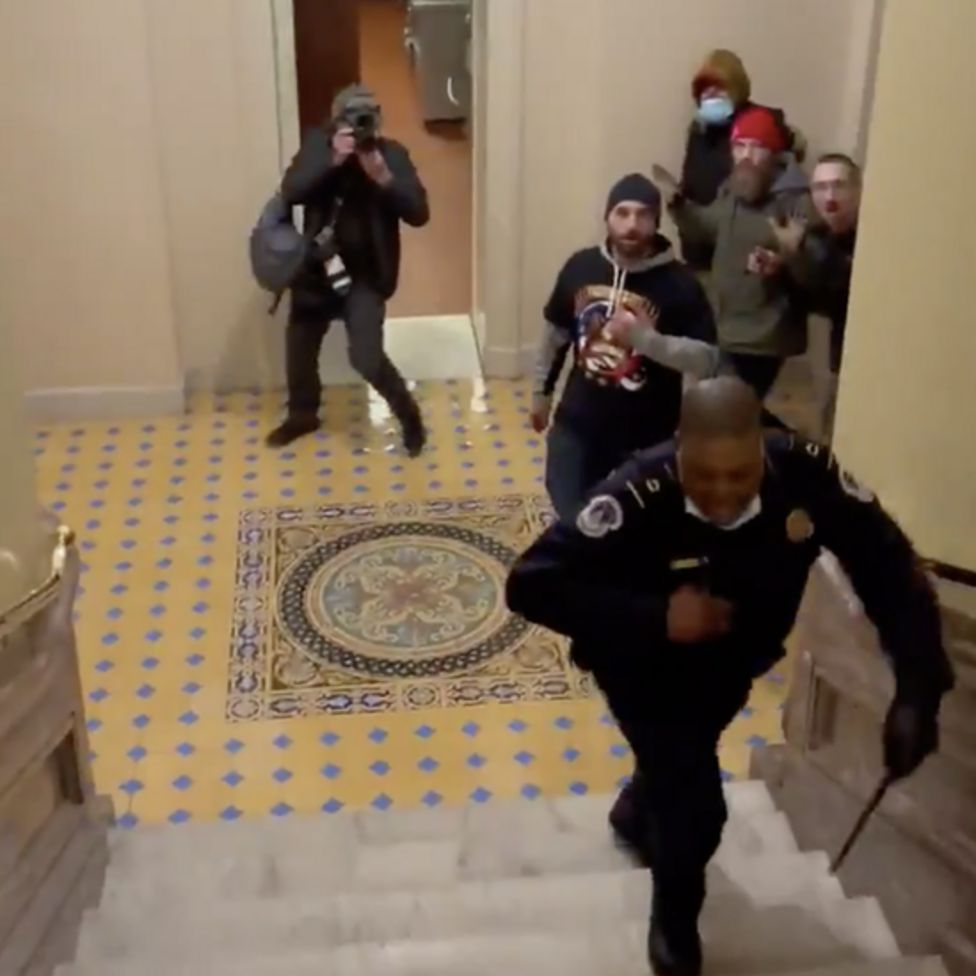 According to reports, Officer Goodman arriving at the Senate chamber entrance and glancing at it, shoves Mr Jensen – the QAnon T-Shirt wearing leader of the rioting squad hot on his heels – a move seemingly designed to draw attention on to himself, luring the mob away from the chambers and those hiding inside.
Huffington Post reporter Igor Bobic captured the incident live. The Black police officer could be seen getting chased by a White mob as he distracts them from the chambers.
New York Law School criminal law professor and 20-year veteran of the New York City Police Department Kirk Burkhalter called Mr Goodman's response to rioters "tremendous".
"I don't think there was any type of training that would prepare you for that situation," Mr Burkhalter said.
Outgoing Vice President Mike Pence has reportedly reached out to Goodman to express his gratefulness to the police officer.
The image of Mr Goodman trailed by a mob – some armed with Confederate flags, others with allusions to the Nazi flag – was extremely disturbing, Mr Burkhalter said.
"Police officer, not a police officer, to see a black man being chased by someone carrying a Confederate flag – there is something wrong with that picture. That should never happen again," he said.
"It just reeks of everything we need to correct."
Congressman Bill Pascrell said on Twitter: "As Trump's fascist mob ransacked the US Capitol, this brave USCP officer kept murderous rioters away from the Senate chamber and saved the lives of those inside."
Senator Bob Casey said: "Last Wednesday, I was inside the Senate chamber when Officer Eugene Goodman led an angry mob away from it at great personal risk. His quick thinking and decisive action that day likely saved lives, and we owe him a debt of gratitude."
Observers on social media have also congratulated Goodman's restraint for refusing to pull his gun on the white mob. The event sparked a debate on social media as it was comparatively noted that Black people in America are killed by White officers for far less crimes as a Capitol invasion.
Observers called on the Biden-Harris government to enforce the needed changes for racial justice and equality.
NEWS/PHOTO SOURCE: News Agencies | BCC | Igor Bobic | NY Times