The protest that broke out after the arrest of Ugandan presidential candidate Bobi Wine, has led to the death of, at least, seven people and over 40 injured, the police have said.
The Uganda Red Cross, in a statement, said 11 people with gunshot wounds had been assisted by their frontline workers while graphic videos and images of the wounded flooded the Ugandan social media space.
Bobi Wine, whose real name is Robert Kyagulanyi, was arrested in eastern Uganda Wednesday morning for allegedly contravening electoral guidelines which require candidates not to have more than 200 supporters at a rally to curb the spread of the Wuhan virus (aka, COVID-19) according to Police.
Violent protests broke out in Kampala and other cities after news of Wine's detention, the latest in a row of run-ins with the police. According to reports, young protesters in Kampala disrupted traffic with fires and barricades as they called for Wine's release. Local television footage showed squads of police and military personnel using tear gas and live bullets as they tried to disperse protesters.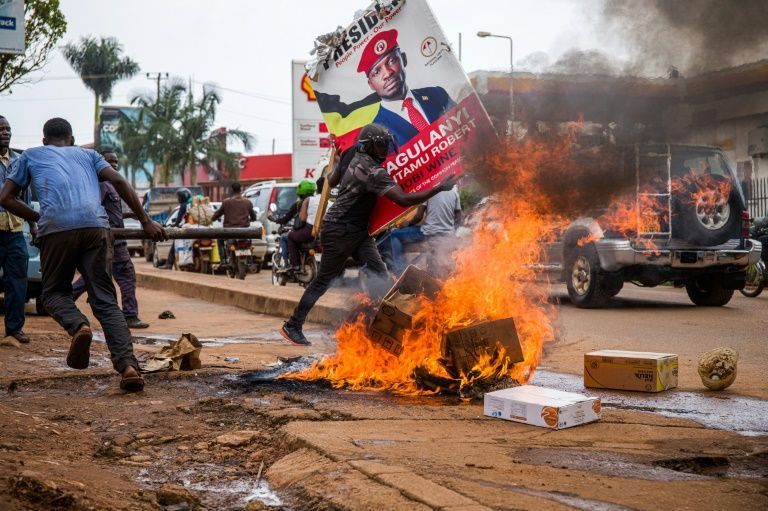 Meanwhile, opposition presidential candidates in the country have suspended their campaigns.
More independent candidates, Willy Mayambala and John Katumba have also joined Gen. Mugisha Muntu of the Alliance for National Transformation (ANT) and independent presidential candidate Lt. Gen. Henry Tumukunde in suspending their campaigns following the arrest and continued detention of Kyagulanyi, the National Unity Platform candidate.
Bobi Wine, a pop-star-turned MP, has been facing growing police harassment since announcing his intention to challenge long-time President Yoweri Museveni at an election on January 14 next year. He was most recently arrested on November 3, just moments after registering his candidacy.
Wine is now seen as the strongest challenger to Museveni, who has been in power for 34 years and is East Africa's longest-serving president.
Although he faces an uphill battle of ending the tenure of 76-year-old Museveni, analysts say he stands a good chance partly owing to a large contingent of young supporters drawn by the criticism of the government contained in his catchy pop songs.
NEWS/PHOTO SOURCE: News Agencies | Reuters