Uganda's National Unity Platform (NUP) presidential candidate Robert Kyagulanyi, popularly known as Bobi Wine, has been arrested.
Wine was arrested on Wednesday afternoon with his campaign team and was being driven to a police station in Kalangala Island area, according to the Daily Monitor.
The official Twitter account of the singer-turned-politician also announced the arrest.
"Bobi Wine and his entire campaign team arrested in Kalangala! Media blocked – Admin," read a tweet on the handle.
The Monitor reports that efforts are currently underway to have the NUP candidate airlifted to Kampala from Kalangala Island.
A fresh wave of protests reportedly began after Wine was arrested.
However, police spokesperson, Fred Enanga dismissed reports of arrests and said Mr Kyagulanyi was being transferred to his home in Magere, Wakiso district.
"Part of his advance team, captured on CCTV cameras and several video footages while deflating tyres of police motor vehicles, inciting violence, obstructing police officers on duty, violating the health and safety protocols and various traffic offences, have been arrested for further statement recording," he further stated.
Reuters photographs from the scene showed Wine being escorted by at least 10 police officers, some armed with rifles.
Wine was captured wearing a helmet and bulletproof vest, which he said he uses to guard against injuries whenever police invade his meetings.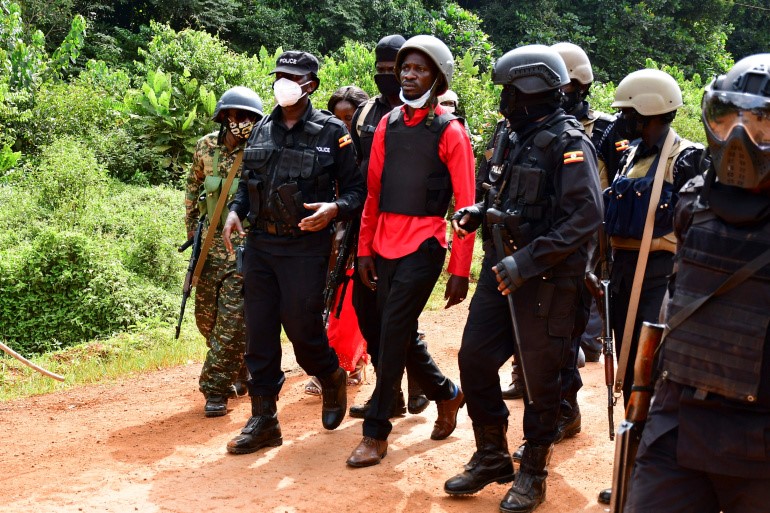 In November, at least 54 people died after protests erupted following Wine's brief detention over alleged violation of social-distancing measures.
Police at the time said they had arrested nearly 600 people and accused protesters of rioting and looting.
United Nations human rights experts urged Uganda on Tuesday to curb violent security forces and drop charges against political opponents and activists arrested in what the experts called an election clampdown.
Bobi Wine so far appears to be the strongest challenger to President Yoweri Museveni, 76, who has ruled the country for four decades.
The presidential election is just 15 days away, as Ugandans will march to the polls on 14 January.
NEWS/PHOTO SOURCE: News Agencies