Many have lost their lives as sorcery-related attacks in Papua New Guinea continue unabated. As the security apparatus of PNG narrates, some of the victims are killed and dumped in the sea.
The victims are mostly vulnerable women – single mothers, widows, the infirm or mentally ill.
"It is a really big problem," University of PNG political science lecturer and former crime reporter Geejay Milli said.
According to an ABC report, aid workers said sorcery-related violence and murder was increasingly dividing families and claiming innocent lives across PNG. Once confined to small pockets of the country, sorcery-related violence is now far more widespread with both men and women accused of witchcraft being attacked and often killed.
Sorcery-related violence refers to attacks carried out on those accused of wielding supernatural powers or witchcraft to harm another person.
Helen Mark, who coordinates Oxfam's gender justice programme in PNG, said the problem has only grown in the past four to five years.
"Previously we have not seen an increase. Sorcery-related violence was something that was dealt with at a community level and dealt among leaders," she said, adding that sorcery accusations were also often used as a scapegoating tactic to target certain individuals.
Researcher Nicole George, writing in The Conversation in 2015, said studies of sorcery-related deaths showed accusations of witchcraft were usually levelled at those on the bottom of the social hierarchy, most often women who lived on the margins of society – the elderly, disabled, or those who had married into the village. In a 2015 report into gender-based violence in PNG, Human Rights Watch said "sorcery accusations all too often become a form of family violence, with abusive husbands … using sorcery accusations to silence and control women".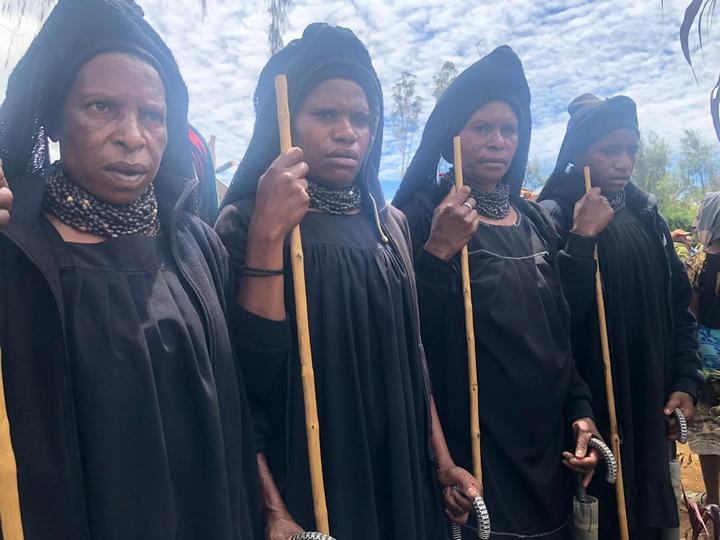 Academics at the Divine Word University (DWU), PNG's National Research Institute (PNGNRI), and the Australian National University (ANU), found that over the past 20 years, there was an average of 72 incidents of torture, and 30 deaths reported in local newspapers annually.
But one of the researchers, ANU's Dr Miranda Forsyth, said police had only arrested and charged a small number of the perpetrators.
There has been conscious efforts by PNG's government, civil society and community workers to spread awareness about sorcery accusation-related violence, which has increased in recent years.
Sister Lorena said in the most recent case in the Highlands a woman who had been sexually tortured by her own son, died after a prolonged struggle with depression.
The nun said she knew the family.
"I was able to talk very honestly with them. We were able to say that this cannot go on to our women. That [we] cannot any longer let that horror happen, because it's against human rights, it's against women's rights and against everything that's normal."
It's estimated as many as 200 people die each year and dozens more are left badly injured in attacks related to sorcery accusations.
NEWS/PHOTO SOURCE: News Agencies