Two French doctors have been rebuked for racism after they suggested trialing a tuberculosis vaccine in Africa to establish whether it could fight the coronavirus, according to news report.
The disturbing exchange came during a debate on the French TV channel LCI, the BBC reported. Camille Locht, head of research at the Inserm health research group, had mentioned conducting a trial of the BCG vaccine in Europe and Australia.
"If I can be provocative," responded Jean-Paul Mira, head of intensive care at Cochin Hospital in Paris, "shouldn't we be doing this study in Africa, where there are no masks, no treatments, no resuscitation?"
"A bit like as it is done elsewhere for some studies on AIDS," the doctor added, according to the report.
"In prostitutes, we try things because we know that they are highly exposed and that they do not protect themselves."
Mira had earlier stated that the research might not work as planned on health care workers in Europe and Australia, because they have access to personal protective equipment, guarding them from the contagion.
"You are right," Locht responded.
"We are in the process of thinking about a study in parallel in Africa," he said, referencing the studies underway in other continents.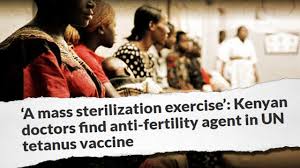 Two former soccer players in Africa railed at the doctors for their comments.
"It is totally inconceivable we keep on cautioning this," Didier Drogba tweeted. "Africa isn't a testing lab. I would like to vividly denounce those demeaning, false and most of all deeply racist words."
"Africa is not your playing ground," Samuel Eto'o countered on instagram
Istanbul Basaksehir forward Demba Ba also reacted angrily on Twitter in a separate post, which read: "Welcome to the West. Where white people believe that they are so superior that racism and stupidity are the norm.
Cameroon international Aurelien Chedjou added his voice with other African players to condemn the French medical practitioners. "How can we not be shocked by these kinds of comments, especially as they are on a channel that's seen by millions and millions of people?"
This comes after numerous criminal cases of foreign firms and agencies, predominantly in the sensitive areas of pharmacy and biomedical research; bribe and sometimes coerce African government officials into securing permits and licences, just to secretly carry out diabolical acts on the African soil, with horrifying consequences
What does the future hold for Africa? Who will protect African?
Sources: World Media Agencies