A video has shown the sad moment law enforcement officers in Minneapolis took laws into their own hands by firing several paint rounds at civilians standing on their own property in an effort to enforce the city's curfew.
The footage caught on a cell phone shows an armored truck rolling down a residential street while nearly two dozen officers and law enforcement march behind.
The police were reportedly patrolling the Whittier neighborhood during the volatile George Floyd protests on Saturday and attempting to enforce the new curfew.
Minneapolis Mayor Jacob Frey on Friday imposed a mandatory nighttime curfew for residents citywide after three nights of protests over the death of George Floyd.
The curfew prohibits anyone from being in public spaces between 8pm and 6am this weekend.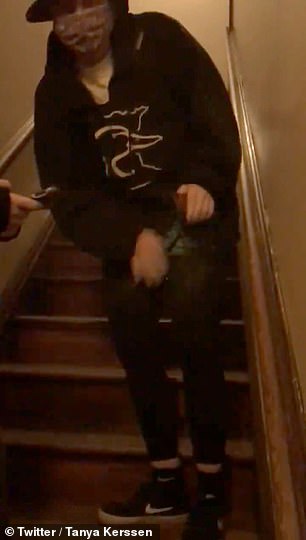 In the video, several members of law enforcement can be heard screaming 'go inside now' to direct residents off of the streets.
Tanya Kerssen, the woman who captured the incident, and at least one other person were watching the scene unfold from the front porch of a home.
Although Kerssen and other witnesses were standing on private property, authorities zeroed in their curfew campaign on them.
After yelling at the witnesses to go inside several times, one officer instructs the group to 'light 'em up.'
At least two officers appear to begin to fire several rounds of paint projectiles at the group.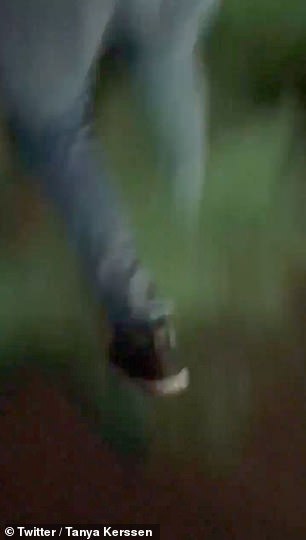 Kressen and the group rush inside while law enforcement is still yelling from outside.
No one appeared to sustain any serious injuries.
Of the event, Kressen wrote on Twitter: 'Share widely: National guard and MPD sweeping our residential street. Shooting paint canisters at us on our own front porch. Yelling "light em up".'
According to Frey's current order, the curfew does not extend to private residences.