Patel Mansukul Kanasagara, the owner of the killer Dam that collapsed in Kenya, killing dozens and wiping out two villages, has been charged with manslaughter
The illegal Dam, privately owned by the Asian and allegedly built illegally, collapsed in May, sending 70 million litres of water towards homes below, destroying villages, killing at least 47 people and rendering over 500 hundred families homeless.
Investigations revealed the dam's construction was not only illegal but was done by unqualified staff, which led to construction and design flaws. This sadly illustrates the horrific way policies are followed in most African countries with disastrous consequences
With the connivance of senior Kenyan Government officials and local politicians, the desperate victims instead of getting full counseling and support, found themselves abandoned by the government and were deceived into signing documents which purportedly cushion the Mansukul Patel business and family from indictment and subsequent justice for the bereaved African victims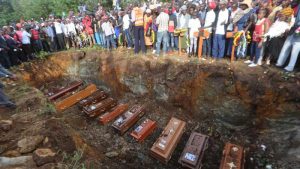 Very little is known about Patel Mansukul Kanasagara and his Asian family as they hardly interact with the Black Kenyan locals. Visitors to the farm are normally of Asian origin. "We normally received visitors here at the weekends but most of them are of Asian origin. They come here for camping and meditation," said a guard at the gate
Although the family involve themselves sometimes with social responsibility activities in the area, they allegedly deny the native Black communities around the area access to the illegal dams within their farms.
The Patels own nearly 6,000 acre of land plus the Patel Coffee Estates Limited which deals in large-scale coffee, macadamia and dairy farming as well as beef cattle production. They have been in business, in that area for over 2 decades
SOURCE: Standardmedia Kenya