Seven people onboard a Nigerian military plane have died after the aircraft crashed on approach to Abuja airport from Minna, Niger State on Sunday, a spokesman for Nigeria's Air Force said.
The "Nigerian Air Force (NAF) Beechcraft KingAir B350i aircraft crashed while returning to the Abuja Airport after reporting engine failure," Air Vice Marshal Ibikunle Daramola said on Twitter. "All 7 personnel on board died in the crash."
He added that the Chief of the Air Staff has ordered an immediate investigation into the incident.
"A military aircraft King Air 350 has just crashed short of our Abuja runway after reporting engine failure enroute [to] Minna. It appears to be fatal," said the country's aviation minister, Hadi Sirika, confirming the incident in a statement.
According to reports, the plane was scheduled to conduct a surveillance mission in connection with an operation to rescue dozens of people abducted from a school Wednesday in nearby Niger State.
A certain group of northern armed miscreants locally known as "bandits" killed a schoolboy and captured 42 people, including 27 students, three teachers and relatives of school staff, officials said, in the country's latest mass abduction.
President Muhammadu Buhari ordered security forces to free the kidnap victims and the army and police said they were tracking the gang.
According to spokesman Ibikunle Daramola, the plane that crashed Sunday "was scheduled to conduct surveillance missions over Niger State and its environs in connection with the concerted efforts to secure the release of the students/staff."
The cause of the accident has not been categorically stated but officials said the pilot had reported an engine failure.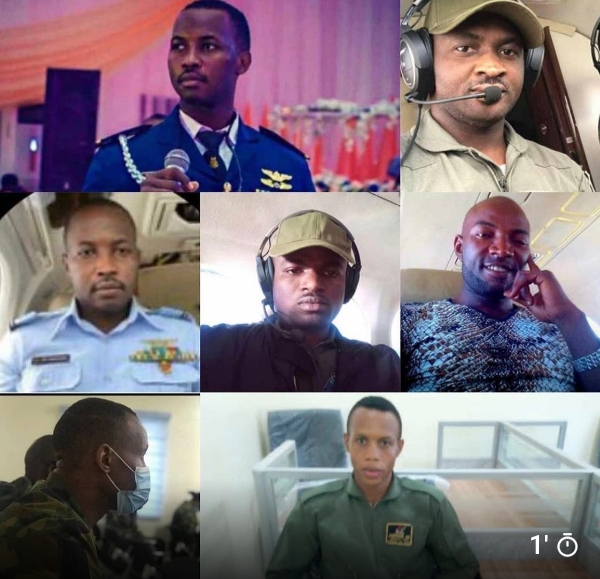 The names of the dead officers listed below:
1. Flight Lieutenant Haruna Gadzama (Captain)
2. Flight Lieutenant Henry Piyo (Co-pilot),
3. Flying Officer Micheal Okpara (Airborne Tactical Observation System specialist).
4. Warrant Officer Bassey Etim (ATOS specialist)
5. Flight Sergeant Olasunkanmi Olawunmi (ATOS specialist)
6. Sergeant Ugochukwu Oluka (ATOS specialist)
7. Aircraftman Adewale Johnson (Onboard Technician).
Video posted to social media showed water cannon being used to extinguish the flames at the scene, while a large number of onlookers crowded around.
The air force said an investigation into the accident was underway.
NEWS/PHOTO SOURCE: News Agencies