Nigerian youths have taken the protest calling for the scrapping of the violent and dreaded Special Anti-Robbery Squad (SARS) unit of the Nigeria Police Force to the fourth day.
The #ENDSARS protest has gathered steam since it was first commenced on Wednesday and has spread from Lagos to Abuja and to many states in Nigeria.
According to SaharaReporters, in Lagos, protesters have been keeping vigil at the entrance of the Lagos State House of Assembly despite intimidation from the police.
Meanwhile, reports coming from the city of Ogbomoso, Oyo State, has it that the Nigerian Police has shot dead a student during a peaceful protest against SARS.
President Muhammadu Buhari is adamant in his refusal to scrap the unit blamed over time for molestation, terrorism of youths, indiscriminate use of lethal force, and maniacal killings.
Mr. Buhari said he prefers to reform the unit, but Nigerians insist it must be scrapped then replaced with a more humane and professional squad.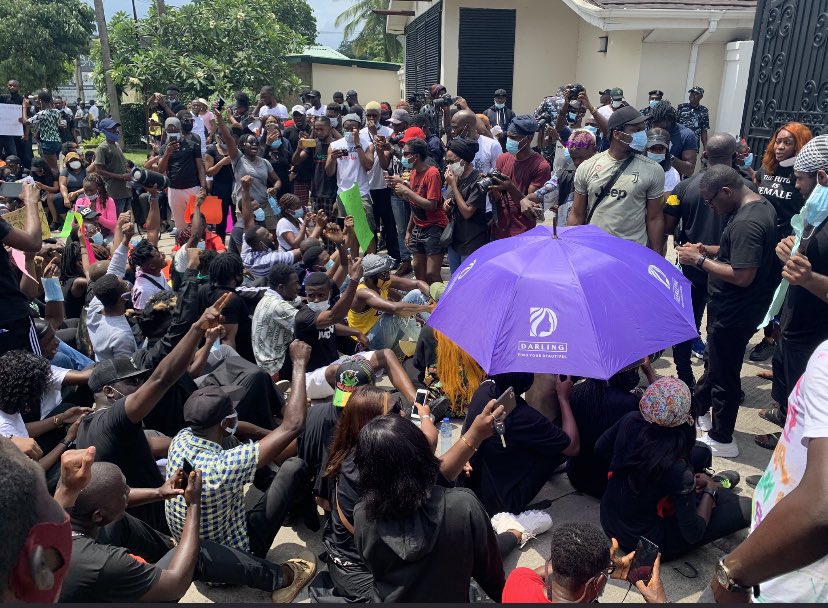 Top celebrities and activists across the world, including John Boyega, Cardi B, Wizkid, Banky W, Segun Awosanya, amongst others, have been adding their voices and hitting the roads in protest.
Nigerians at home continue the protests this weekend in Lagos. Nigerians in New York, Washing D.C., London, Germany, and other locations have joined demonstrations.
South African Economic Freedom Fighters (EFF) have joined other Nigerians to demand #EndSARS.
Their leader, Julius Malema said: "An entity that exists for the purposes of terror and self-enrichment has no moral authority to present itself as law enforcement."
NEWS/PHOTO SOURCE: News Agencies