Since ascension to power by president Buhari, Africas biggest economy with a realistic chance of becoming a world contender has taken a nose dive.
Insecurity allegedly caused by banditry and "foreign Fulani herdsmen" migrants have incapacitated the national security arms, forcing all regions to establish its own security outfits
Amotekun in the west, Hisbah Police in the muslim north, and Eastern Security Network (ESN) in the east
The eastern region, a people largely Christian, allegedly gets singled out for deadly confrontations and irrational killings by the muslim led Buhari government, at the slightest provocation, using state security outfits
The bloody clash between operatives of the Eastern Security Network, ESN, and the Nigerian army in Orlu, Imo State has led to many unanswered questions. One of those coming from Nigeria's former Minister of Education Ezekwesili.
Ezekwesili queried the deployment of battalion of soldiers against ESN members in Orlu Imo state.
ESN is an eastern security outfit recently launched by Nnamdi Kanu, leader of the Indigenous People of Biafra, IPOB.
It was alleged that the clash ensued after ESN operatives responded to calls of soldiers allegedly attacking civilians.
The Nigerian army was reportedly carrying out a questionable operation in the community, which is the base of the ESN.
The incident has led to loss of lives and properties in the area.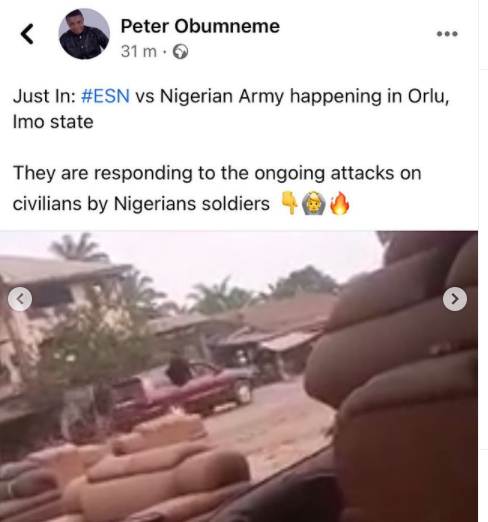 Some residents of Orlu have been capturing scenes of the crisis with their phones and uploading clips on social media.
A video posted on Twitter, Monday afternoon, showed soldiers taking positions in a calmed street and firing gunshots.
Some military trucks are seen, in another video, being driven through a street.
A woman's voice could be heard from the background of the video crying.
"Oh my God, look at them, look at them… I want to go home. I want to go home," she cried.
Another video showed flames of fire engulfing a building, while a corpse is seen close by at a veranda of what looks like a shop.
Reacting to the development, Ezekwesili demanded that President Muhammadu Buhari and the Nigerian Army give reason for Army's presence in the town.
Her tweet read: "Can the @HQNigerianArmy please communicate what's going on here in Orlu Town to the public?
"It certainly has the appearance of a war scene. Is an entire town under combat operation from our Military?
"Can the C-in-C let Nigerians know who ordered this operation?"
The town has been engulfed by the crisis and a curfew has been declared
"This is what is happening in Orlu," said a man's voice in a video. He was secretly filming the scenes of the military operation.
"The army are shooting sporadically. They are just shooting at any vehicle that is moving, although I can't get everything from where I am right now.
"Orlu is in a total mess," he said.
Aloy Ejimakor, a lawyer and special counsel to the IPOB leader, Nnamdi Kanu, said the military operation was an attack against the Igbos in Nigeria.
"Personally, I was traveling to Orlu and I was turned back about a mile to Orlu. Everybody was making a u-turn, vehicles can't go into Orlu right now. So, on the spot assessment portended sufficient danger that people mounted themselves on the road and they were turning people back for their own safety," the lawyer said.
"The military operation is ongoing in Orlu right now against unarmed civilians. Unarmed civilians, for God's sake," he said.
Just like Mrs. Ezekwesili, many Nigerians at home and abroad are at a loss over what prompted the military operations in a relatively peaceful community where thousands of soldiers were deployed.
NEWS/PHOTO SOURCE: Daily Post | Premium Times | News Agencies