US Secretary of State Mike Pompeo, during his visit to Suriname and Guyana, made a direct move to pitch US interest to the fast-growing small South American nations, telling the leaders to pick US firms, while warning of the risks China poses during an oil boom.
The discovery of oil in the two countries has been a major catalyst for global interest. However, before the oil boom, the countries were rich in lumber and minerals.
Chan Santokhi, Suriname's newly-elected president, was met by Pompeo at his Dutch colonial-era residence in the capital Paramaribo, and the US representative said it was an "exciting time" for the economy and that the United States is "eager to partner."
"No state-owned operation can beat the quality of the products and services of American private companies," Pompeo told a joint news conference in a tent set up outside in the tropical heat.
"We've watched the Chinese Communist Party invest in countries, and it all seems great at the front end and then it all comes falling down when the political costs connected to that becomes clear," Pompeo said.
"And we do our level best wherever I travel to make the case for just making sure everybody understands what they're getting into."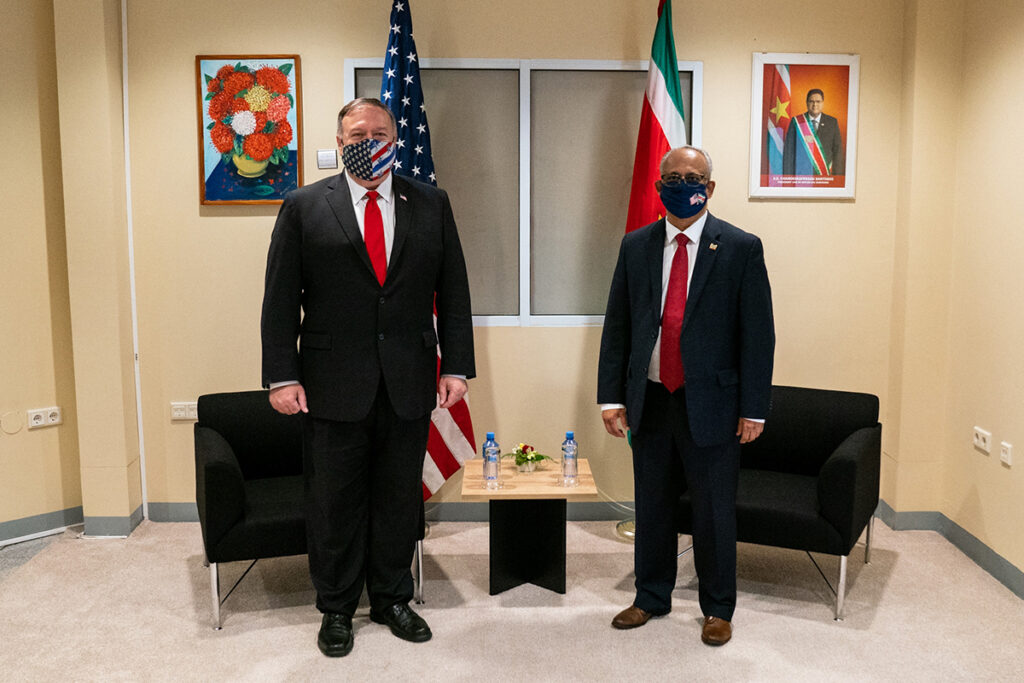 According to Aljazeera, Pompeo later flew to neighbouring Guyana to deliver a similar message in a country expected to grow a staggering 85 percent this year – the highest rate of any nation in the world.
Pompeo was welcomed with billboards of his likeness and a dinner in his honour thrown by another new leader, President Irfaan Ali, with a rifle-holding honour guard wearing masks to prevent the spread of COVID-19.
Pompeo's trip comes on the heels of five months of political turmoil in Guyana following a contested presidential vote in March. Ali was sworn into office in August after a protracted legal battle, a Supreme Court-ordered recount and international pressure on incumbent David Granger to step down.
Pompeo and Venezuelan refugees
Pompeo is visiting four South American nations, three of which share a border with Venezuela.
He made a stop in Brazil where he visited a Venezuelan refugee processing center, while calling for democracy and for Venezuelan President Nicolas Maduro to step down.
According to VOA, about 250,000 Venezuelan refugees are now in Brazil, with about 600 arriving daily before the border was closed because of the coronavirus. Pompeo visited the center alongside Brazilian Foreign Minister Ernesto Araújo.
During a joint press conference with Araújo, Pompeo said Venezuelan refugees "want what all human beings want — dignity, they want a democratic, peaceful, sovereign Venezuela to call home, one where they and their children can find jobs and live with that dignity. We — the United States and Brazil — support them."
He said while nobody can predict the day when Maduro will leave office, "the day will come."
Pompeo also announced the United States will give $348 million to help Venezuelan refugees, including $30 million for those in Brazil.
NEWS/PHOTO SOURCE: World News Agencies/OTP Photo