Top Iranian nuclear scientist Mohsen Fakhrizadeh has been killed in an attack outside Tehran on Friday. He was widely seen by countries such as the US and Israel as the mastermind of clandestine Iranian efforts to develop nuclear weapons.
Iran has debunked the accusation and says Fakhrizadeh was not involved in any such undertaking and that it only tried to weaponise uranium enrichment for nuclear energy.
Iran suspects arch-foe Israel is the mastermind of the prominent nuclear scientist's assassination, and President Hassan Rouhani on Saturday said Israel was acting as a "mercenary" for the US.
Fakhrizadeh died in hospital after he was shot in his car near Tehran, and Iran's clerical and military rulers have threatened revenge.
"Once again, the evil hands of global arrogance were stained with the blood of the mercenary usurper Zionist regime," a term for Israel, Iran's President Hassan Rouhani said in a statement, according to state TV.
"The assassination of martyr Fakhrizadeh shows our enemies' despair and the depth of their hatred," Rouhani added. "His martyrdom will not slow down our achievements."
According to reports, Fakhrizadeh was targeted while travelling near Absard city in Tehran province's eastern Damavand county.
Analysts say his assassination could provoke a confrontation between Iran and its foes, of which the US and Israel are top of the list – further complicating any effort by President-elect Joe Biden to return America to a pact aimed at ensuring Iran does not have enough highly enriched uranium to make a nuclear weapon.
The New York Times said an American official and two other intelligence officials confirmed Israel was behind Friday's attack, without giving further details.
The United States slapped sanctions on Fakhrizadeh in 2008 for "activities and transactions that contributed to the development of Iran's nuclear programme", and Israeli Prime Minister Benjamin Netanyahu once described him as the father of Iran's nuclear weapons programme.
In April 2018, Netanyahu mentioned Fakhrizadeh by name when he unveiled a nuclear archive that he said Israeli agents has smuggled out of Iran. He called him the head of a secret nuclear project called Project Amad. "Remember that name, Fakhrizadeh," Netanyahu told reporters.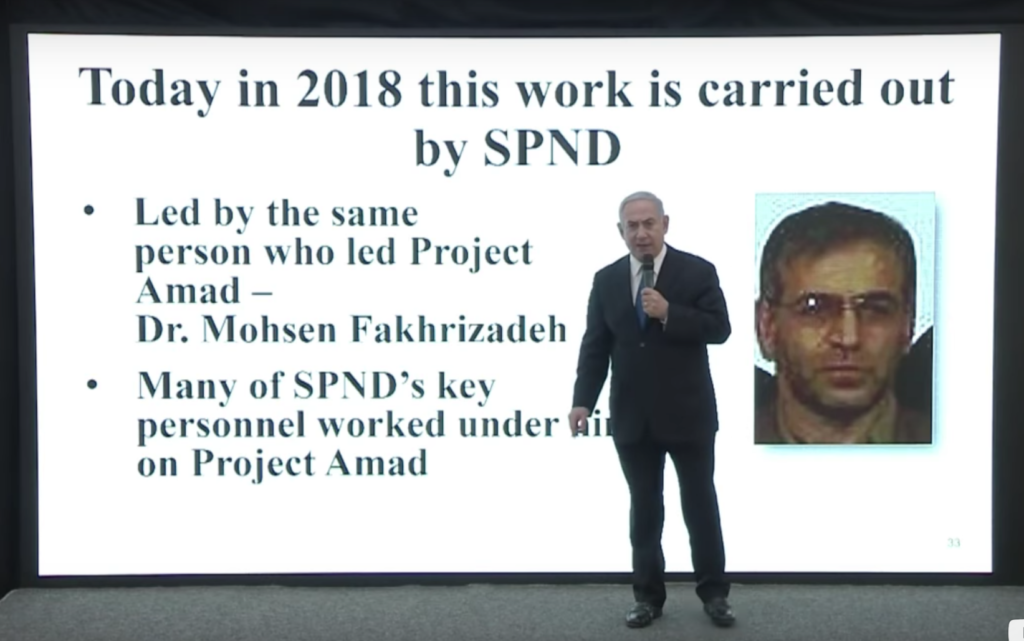 Iranian Foreign Minister Javad Zarif's had on Friday called the killing "cowardice — with serious indications of Israeli role."
Iran has provided no concrete evidence of Israeli involvement and Israeli Prime Minister Benjamin Netanyahu's office declined to comment on the matter.
U.S. Response
Trump on Friday retweeted a post by prominent Israeli journalist Yossi Melman, who wrote: "Fakhrizadeh-Mahabadi assassinated in Damavand, east of Tehran according to reports in Iran. He was head of Iran's secret military program and wanted for many years by Mossad. His death is a major psychological and professional blow for Iran."
Mossad is the foreign intelligence agency of Israel.
The Trump administration said it was closely monitoring the apparent assassination, as a US official told CNN the death "would be a big deal."
Lebanon's Hezbollah, the Iran-backed Lebanese militant group, also condemned the killing. Hezbollah's second-in-command, Naim Qassem, said that agents of the US and Israel were behind the assassination.
NEWS/PHOTO SOURCE: World News Agencies | AP