Iconic Hollywood actress Cicely Tyson has passed on. News of her demise came on Thursday night and she was aged 96, according to her family.
Tributes on social media have been pouring in all over Hollywood since the announcement was made.
Asides from show business, Tyson was renowned for uplifting the stories of Black women both on stage and the big screen.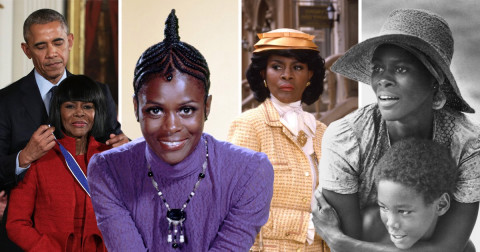 Oprah Winfrey took to twitter to honour Tyson's legacy. ''She used her career to illuminate the humanity of Black people. The roles she played reflected her values; she never compromised. Her life so fully lived is a testimony to Greatness'', the media mogul said.
Tyson lived a long and purposeful life, although Variety senior editor, Marc Malkin said it still comes as such a shock and a surprise because she's been working''.
"When you're 96, you have that career, she had a Tony, she was honored with a special Oscar a couple of years ago. I was in the room for that. So, she just, you know her, if you're a fan of television, you know her or if you're a fan of movies, or if you're a fan of stage, you know her. If you're a fan of social justice, civil rights activist, you know who she is. This is a woman who was standing tall, way before a lot of other people did", Malkin said.
The cause of the death was not immediately given. The former fashion model and screen goddess had a career that spanned seven decades.
Tyson won two Emmys for her performance in the 1974 civil rights-era film The Autobiography of Miss Jane Pittman.
She also became the first Black woman to take on a main role in the TV drama East Side/West Side in the 1960s.
Barack Obama presented Tyson with the Presidential Medal of Freedom in 2016, and the then US President said that apart from her achievements as an actress, she had also shaped the course of history.
In the movie ''Sounder'', Cicely Tyson played the role of a sharecropper's wife, earning her the Tony award in 2013 at 88 years old. Her memoir, "Just As I Am" was released January 26.
Ms. Tyson later found other suitable television roles: as Kunta Kinte's mother in a mini-series based on Alex Haley's "Roots" in 1977; as Coretta Scott King in the 1978 NBC mini-series "King," about the Rev. Dr. Martin Luther King Jr.'s final years; as Harriet Tubman, whose Underground Railroad spirited slaves to freedom, in "A Woman Called Moses" (1978); and as a Chicago teacher devoted to poor children in "The Marva Collins Story" (1981). In 1994, she won a supporting actress Emmy for her portrayal of Castalia in the mini-series "Oldest Living Confederate Widow Tells All."
Since the '60s she had inspired Black American women to embrace their own standards of beauty —including helping to popularize the Afro, New York Times reports.
Tyler Perry who directed Tyson in projects like A Fall From Grace, revealed he was watching one of her movies when Winfrey called him to say Tyson had passed.
"She was the grandmother I never had and the wisdom tree that I could always sit under to fill my cup. My heart breaks in one beat, while celebrating her life in the next," he wrote on Instagram. "To think that she lived for 96 years and I got to be a part of the last 16 brings me great joy. She called me son. Well, today your son grieves your loss and will miss our long talks, your laughter from your belly, and your very presence. Always so regal, always so classy, always a lady, always a queen. Every time we would talk I would ask, 'How are you?' and you would say, 'I'm still here. He must have something he wants me to do.' Well, I think it's safe to say you have done all you were put here to do, and we are all better for it."
Cicely Tyson inspired many generations, amplified the voices of Black women, and left an indelible legacy on the sands of time.
May she Rest in Peace!
NEWS/PHOTO SOURCE: News Agencies | New York Times | Getty Images