Editorial by KIRATIANA FREELON originally published on Undomesticated
Now I'm using my journalism about Black Brazil to inspire people across the world.
Four years ago, I moved to Brazil from my home in Chicago. And when people asked me what my calling as a Black American journalist in Brazil was, I said: To save Afro-Brazilians. I wanted to help Black Brazilians confront racism, rise out of poverty, and achieve their full potential in life. Once I landed on this mission, I shared the news with everyone: My mother, Black ex-pats, and Afro-Brazilians, of course. Two years passed before the first person challenged my aspirations—Ollie A. Johnson, an African-American scholar who specializes in Black Brazilian politics. When I told him my dreams over drinks at a Black-owned restaurant in a favela overlooking Copacabana beach, he told me to flip it on its head.
"You should focus on how African-Americans can learn from and be inspired by Afro-Brazilians," he said.
That shook me.
Had I been looking at this relationship the wrong way around the entire time I'd been living and working here?
***
My relationship with Brazil goes back to 2003. My desire to see the Blackest country outside of Africa—more than half of Brazil's 200 million people are Black—prompted my first trip. Like those 100 million people, I am a descendant of captured Africans who were forced to cross the Atlantic Ocean to become slaves in their new American homes and forge a place for themselves in this new American experiment.
Over five months, I backpacked across the country, only visiting cities and regions with strong ties to Afro-Brazilian heritage. In Rio, I dragged my mother on a tour of favelas (dictionaries define these neighborhoods as low-income slums, but they're rich centers of cultural heritage), where the guide claimed racism didn't exist in Brazil. I visited an 18th-century gold mine in Ouro Preto, where enslaved Africans mined gold that financed Europe's industrial revolution. I arrived in Salvador, a Northeastern city that is 80 percent Black, just in time to parade in the carnival with the city's most radical Black carnival group, Ilê Aiyê. I continued my Afro-Brazilian journey to Recife, home of Brazil's third greatest carnival (after Rio and Salvador), and ended it in São Luis—a city so influenced by Caribbean culture that its most popular music is reggae.
Brazil impacted me so much that I moved to Rio in 2015 as a freelance international correspondent. My matured eyes saw a Brazil that appeared to be "behind" the U.S. in racial progress. Brazilian television didn't represent the country's diverse races and hues. I mainly saw European-looking Brazilians with blond hair and blue eyes. Despite its Black majority, the country had never elected a Black President—moreover, Black elected officials at all levels were rare. It was challenging to find Black-owned restaurants and businesses in Rio de Janeiro.
I wanted to establish myself as a "serious" journalist, so I eschewed articles on culture and tourism—the very topics that had brought me so much joy more than a decade earlier. I learned to speak Portuguese, and I volunteered with a non-profit news agency that sent me on reporting trips to Rio's favelas. Afro-Brazilians created favelas because the Brazilian government promised but reneged on its assistance to provide housing after abolishing slavery.
In one of my first paid articles, I reported on the one-year anniversary of Salvador's Cabula Massacre—my introduction to Brazil's anti-Black police violence. On February 6, 2015, Salvador police killed eight Black men and four Black teenagers. These chacinas are so common that they often aren't "newsworthy" for an international audience. To this day, my most read article is about the 2018 political assassination of Marielle Franco, a queer Black councilman whose work focused on helping Blacks, favela-dwellers, women, and LGBTQ communities.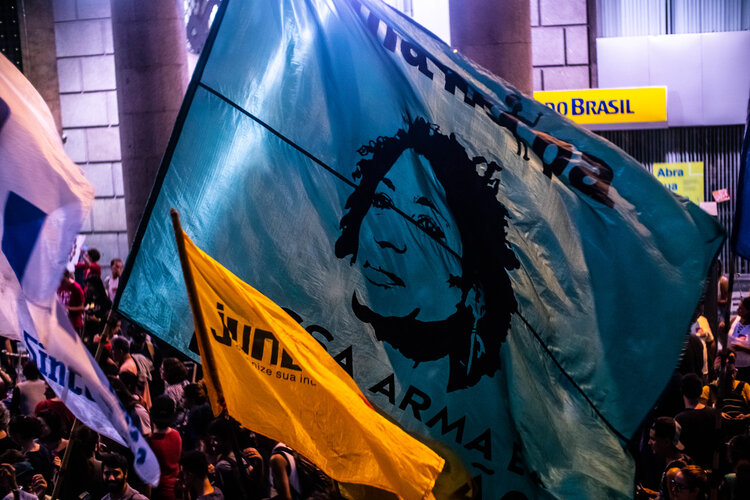 I kept writing these dire articles to bring needed attention to these issues. But at the same time, I had turned myself into Captain Save Afro-Brazil. I had also become fatigued of writing about favelas and violence. I thought to myself, "What if a Black Brazilian journalist came to the U.S. and wrote exclusively about police killings of Blacks and inner-city gun violence?"
Then, months later, Ollie A. Johnson convinced me to look at what Afro-Brazilians had accomplished, both historically and in recent years. So I changed the focus of my reporting on Brazil and started researching and writing about the Black Brazilian movements that were resisting racism and uplifting Blacks—Quilombo, Afro-Futurism, Black women in politics, higher education, to name a few.
For example, the Educafro organization started pushing for affirmative action in higher education and government jobs more than twenty years ago. Their strategic lobbying of judges and government insiders led to the nationwide implementation of affirmative action at the state and federal levels, thereby dismantling the systemic racism in access to college education and civil service jobs. Quilombos are rural, self-sufficient Afro-Brazilian communities that can claim rights to the land they have long inhabited. Many have developed sustainable tourism initiatives that include culture, history, and environmental conservation. After Marielle Franco's assassination, Black women stepped up to run for political office, and won small but significant victories across state and federal positions.
It became clear to me that Johnson was right, African-Americans—and the rest of the world, for that matter—needed to know about these accomplishments, and learn from them. So I set out to tweet, Instagram, Facebook, YouTube, and write about them. Sad stories build empathy for Black Brazilians, but this new direction led to admiration. My story about Brazil's first transgender woman to be elected to a statewide position, Erica Malunguinho, went viral and was picked by international and national media outlets.
And then 2020 happened.
The great equalizer between Black Brazilians and African-Americans has proven to be 2020—the year when Covid-19 health data and Black Lives Matter uprisings showed that neither of us had progressed enough to survive a pandemic or a police home invasion. Blacks in Brazil and the United States over-index in Covid-19 infections and deaths. In fact, Blacks are twice as likely to die from Coronavirus as whites in the US, and Black Brazilians in São Paulo are 60% more likely to die from Coronavirus.
One week before the video emerged of a police officer kneeling on George Floyd's neck, Brazilian police invaded 14-year-old João Pedro's home outside of Rio and killed him with a shot to the back. Black Lives Matter protests spread across the world. BLM conjoined with Brazil's anti-genocide movement, as activists have long referred to their anti-Black police violence. And while many called Brazil's protests timid because they didn't happen every day and weren't very large, activists in Rio managed to convince a Supreme Court judge to ban police operations in the state, leading to a 70% drop in killings by police. Although Brazil's police don't respect the lives of Blacks and favela dwellers, they do respect the Supreme Court.
And once again, Black hands reach across continents, in terror and triumph, in mourning and meaning, to continue forging community and defending our now rightful homes.
Kiratiana Freelon is an entrepreneur, multimedia journalist, and author based in Rio de Janeiro, Brazil. Her work has been published in The Washington Post, Quartz, New York Magazine and The Root. She is working on a travel and culture guide to Afro Rio that will be published in 2021. She also recently started a newsletter focused on Black Brazilian news, culture and history