The President of Tanzania, John Magufuli has shown he is not one to be pushed around after waging war against imperialists and foreign governments trying to exploit his country and Africa. He has fought bitterly to distance himself and country from businesses and political dealings that are exploitative and refused to be a puppet to Western powers.
He has been pragmatic in his approach to rid his country of colonial influence, foreign intrusion and has lived up to his reputation as the 'piece of iron' of Tanzania.
We take a look at five ways Magufuli is undoing the damage from colonialism
1). Fight against exploitation by Canadian mining giant, Barrick Gold Corp
President Magufuli fought and won a fight against exploitation by Canadian mining giant Barrick Gold Corp.
Following a year long impasse, the country and Barrick Gold Corp successfully signed a new agreement after Magufuli had demanded a 60% stake for the government in three of its gold mines.
As a result of his insistence, Barrick Gold Corp was forced to sign a new agreement with the country.
The new deal stands to benefit Tanzania. Barrick Gold Corp will now settle a long-running tax dispute between Tanzania and mining group Acacia which include: the payment of $300 million to settle outstanding tax and other disputes, the lifting of a concentrate export ban, and the sharing of future economic benefits from mines on a 50-50 basis, Barrick said in a statement on Sunday.
The new deal will also give the government 16% stake in each large-scale mine, in accordance with mining laws passed in 2017.
2). Rejects 'madman's' deal with China
Magufuli made bold his threat to go all out against imperialist agenda after canceling a deal signed with China by his predecessor. In rejecting the deal, Mr. Magufuli said only a "madman" would accept the financial terms negotiated by his predecessor Jakaya Kikwete's government for the building of the port.
The projects were for the building of Tanzania's first electric railway line linking the main commercial city Dar es Salaam to the capital, Dodoma, about 500km (310 miles) away and the construction of East Africa's biggest port in Bagamoyo, once the capital of German East Africa, at a cost of $10bn (£8bn).
What was wrong with the terms?
Read it from Magufuli himself: "They told us once they build the port, there should be no other port to be built all the way from Tanga to Mtwara south," Magufuli told a delegation of business people at State House in Dar es Salaam on June 14.
"They want us to give them a guarantee of 33 years and a lease of 99 years, and we should not question whoever comes to invest there once the port is operational. They want to take the land as their own but we have to compensate them for drilling construction of that port," he said.
Magufuli touts himself as a nationalist, but has been accused of squeezing the opposition, narrowing civic space, cracking down on the media and increasing surveillance, according to a BBC report.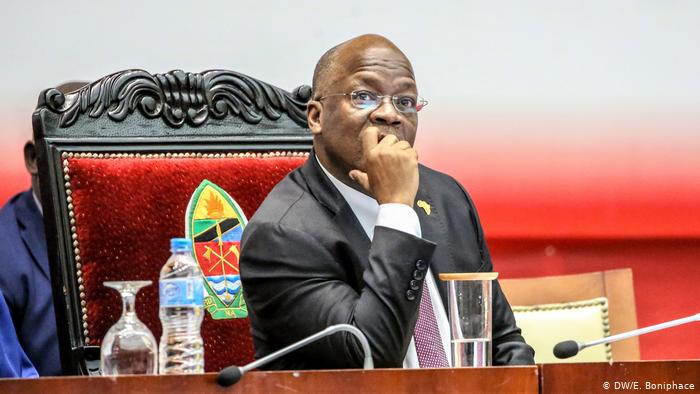 3). Adoption of African indigenous language "Kiswahili" in 16 SADC nation bloc
Magufuli pushed for the adoption of the African indigenous language "Kiswahili" in the SADC bloc during its 39th summit meeting in August 2019. He stated that African countries needed to prioritize the agenda
''I am appealing to your excellencies to fast track the adoption of Kiswahili to be among the four official languages in SADC…'' Tanzania President John Magufuli is quoted as saying during the opening of the SADC 39th heads of summit at the Julius Nyerere International Center.
Kiswahili would be adopted at the level of Council and Summit, first as a language for oral communication, before finally being adopted for written official communication within SADC. This was stated by the Chairperson of the SADC Council, who is also Tanzania's Foreign Affairs Minister, Prof. Palamagamba Kabudi; reports Southern African Research and Documentation Centre
Kiswahili is an official language of the African Union and is believed to be the lingua franca in most of east Africa, parts of central and also southern Africa.
4). No foreign trips
He has consistently called for a pan-African collaboration to fight colonialists, imperialists, and western powers trying to exploit the continent with unfair business and political deals.
Since his emergence as President, Magufuli has not taken a single official visit to a Western nation. He has also refused to attend sessions of the UN General Assembly, which other African leaders cherish to attend.
But in sharp contrast, he has attended sessions of the African Union summits and visited a few African countries. His suspicion of Western nations is not unfounded.
5). Unconventionally Fighting Wuhanvirus pandemic with African herbs
Magufuli is the first president in Africa to adopt an unpopular African approach to fight coronavirus. He publicly called the virus a Western propaganda as he encouraged his people to continue attending church services.
He also popularized the use of traditional medication in the treatment of coronavirus, including steam inhalation and a Malagasy-produced tonic made from the artemisia plant even when the World Health Organization advised against it.
It was in Tanzania that goats and pawpaw fruits tested positive for coronavirus, sparking outrage and suspicions over testing equipments from abroad
In response to the news, Magufuli accused western powers of trying to force the disease into the country.
"There are so many unbelievable things being done in this country. Either the imperialists have bought off the laboratory technicians, or they are not competent, which is not true," he said.
"So many times, I have insisted that not everything that you are given is good. There could be people being used, that equipment could be used… but it could also be sabotage because this is warfare," he said, lurching towards a conspiracy theory.
He also employed the services of churches to fight the disease. As a staunch Catholic, Magufuli believed in the power of God.
"Coronavirus is a devil. It cannot live in the body of Christ," the Tanzanian leader, who has a PhD in chemistry said in March.
And when Mr Magufuli addressed worshippers earlier this month, he said: "The corona disease has been eliminated thanks to God."
This month, in his final parliamentary address before election campaigning started, Mr Magufuli repeated that God had spared Tanzania the virus, and called for all schools to reopen and for a return to normality.
With the World Bank recently upgrading Tanzania's status to a middle income economy, a laudable feat for the second largest economy in east Africa; many are beginning to worry as the presidential election draws close.
Would " The piece of Iron" ( Magufuli) successfully return to the drivers seat of nation building or, like the sorrowful tale of most Black countries; dreams will be hijacked and a new unloyal face would have Tanzanians counting progress, a thousand steps backwards?
Comment and share!
Photo Credit: DW/E Boniphace