December 4 is a date that fills Mona Lisa Abraha with horror. It was then, the 18-year-old says, that Eritrean soldiers entered her village of Tembin in Ethiopia's embattled region of Tigray.
"They tried to rape me and I was thrown to the ground. Then, one of the soldiers fired bullets to scare me, but they hit my hand and then fired another bullet that went through my arm," Abraha recalls from a hospital bed on the outskirts of Tigray's capital, Mekelle.
"I was bleeding for hours. Then, I had my arm amputated," she says, before breaking down in tears.
Abraha's account is one of few emerging from the secretive conflict in Tigray, where communications were cut for many weeks and media access was severely curbed before being slightly eased recently. Al Jazeera has now gained rare access and heard from witnesses and survivors who allege they suffered grave abuses at the hands of Eritrean troops.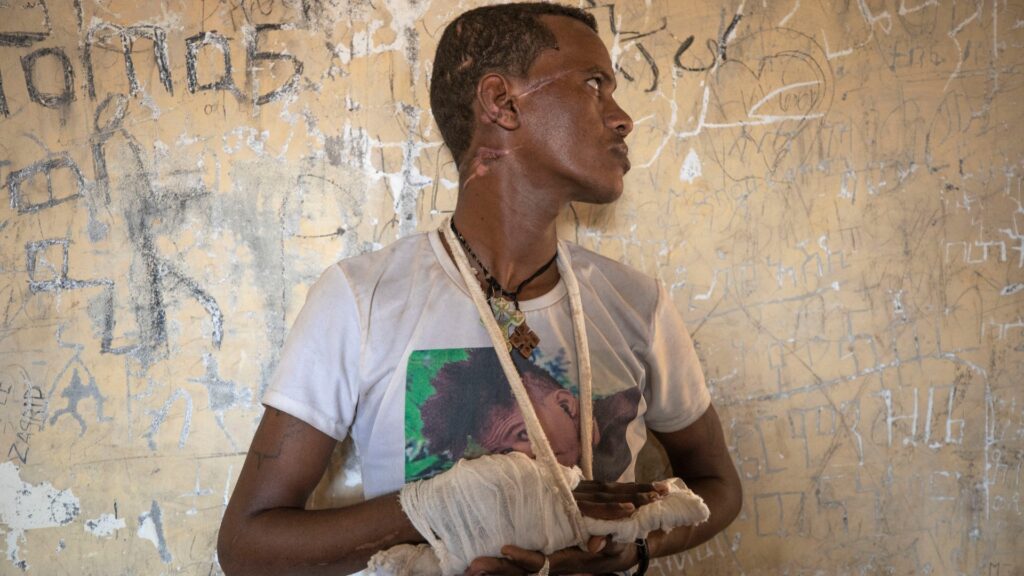 After months of tension, Ethiopian Prime Minister Abiy Ahmed in early November ordered an air and ground offensive in Tigray to remove the region's governing party, the Tigray People's Liberation Front (TPLF), following attacks on federal army camps. The TPLF, which dominated Ethiopian politics for decades until Abiy came to power in 2018, had presided over a brutal 1998-2000 war with Eritrea.
Witnesses, survivors and residents told Al Jazeera that forces from Eritrea committed egregious crimes after entering Tigray to support the Ethiopian military against their longtime foe.
"Some girls and I managed to leave the village, but on the road we were caught by Eritrean soldiers," Saba, a displaced woman from Mai Kadra, told Al Jazeera. "More than 10 soldiers took turns raping us."
"My husband was killed in our village," another displaced woman from Mai Kadra said, blaming Eritrean troops, before pleading: "Tell the world we are dying."
Mai Kadra, in western Tigray, was also where an estimated 600 civilians were killed in a November 9 massacre blamed on a Tigrayan youth group, as well as local police and militiamen.
Axum massacre
Eritrea and Ethiopia have denied that Eritrean troops took part in the conflict that is believed to have killed thousands of people, displaced hundreds of thousands and sparked major shortages of food, water and medicine. Witnesses, however, have estimated that Eritrean soldiers numbered in the thousands, while Al Jazeera has obtained images showing trucks with Eritrean licence plates in Tigray carrying soldiers.
Top members of the state-appointed interim government in Tigray have also acknowledged the presence of Eritrean troops and accusations of looting and killing.
"The TPLF attacked the federal government's army in the [Tigray] region, which is what exposed their location and led the Eritrean forces to enter," Mulu Nega, temporary governor of the Tigray region, told Al Jazeera. "It happened against our will."
SOURCE: AL JAZEERA