*The Police and the entire armed forces on the African continent are alien, inherited institutions from colonization, still struggling to aknowledge the humanity of Africans
Nigerian youths have determined not to back down from protesting against the notorious police unit SARS as well as against police brutality. After waves of protests, the government bowed to pressure and disbanded the anti-robbery unit notorious for violation of citizen's rights, especially the youthful class.
However, the shooting to death of about 5 protesters so far in the West African country has sparked fresh protests against police brutality and the complete abolition of the Special Anti-Robbery Squad.
The Nigerian government, reacting to the protests, have promised to keep up their campaign seeking justice for victims of police brutality and an overhaul of the security apparatus.
The following hashtags have been used on Twitter for the online protests: #ENDSARS, #EndSARSNow, #EndSARSImmediately #SARSMUSTEND, etc.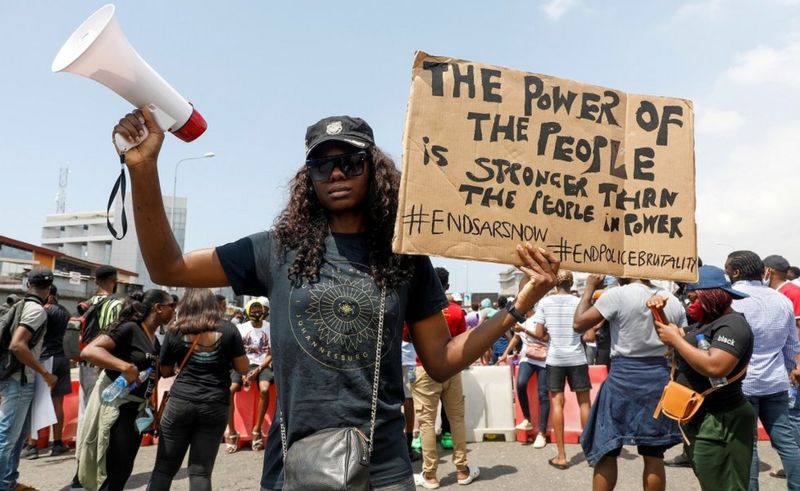 Over 2,000 Nigerian youth were back on the streets in protest on Monday, blocking major roads and clamouring for their voices to be heard.
An emotional Nigerian female protester said: "They will tell us that they've disbanded them and then later we will see them on the road again. We no longer believe them. We want President Muhammadu Buhari to give an executive order, that's when we will believe that SARS has officially been disbanded by the Federal Government."
Another young protester shared her thoughts, "All of us are tired. We are tired of the killings, we are tired of the extorsion, we are tired of the harassment. We are tired of people that are meant to protect us are killing us. It just doesn't make any sense."
Auwal Musa Rafsanjani, executive director of the Civil Society Legislative Advocacy Centre, welcomed the dissolution of the unit but said the announcement "fell short of the expectations of Nigerians".
"Nigerians want accountability [for] those officers who have murdered, who have brutalised Nigerians," he told Al Jazeera. "Disbanding the unit without taking sanctions against those who perpetrated these acts, it means that when they are transferred to another unit, they could replicate the same atrocities."
Mahmud – the Abuja-based lawyer – described the redeployment of officers as "problematic", and said what was needed was "root-and-branch" reform.
"The psyche of our police officers is built on working outside the law. We will continue to demand respect for the rights of citizens," he told Al Jazeera.
"The police have to return itself to constitutionalism; step up the training of its officers and ensure that the issue of discipline of erring officers is handled transparently," Mahmud said. "We have been on this for 10 years."
The human rights NGO, Amnesty International, has urged the Nigerian government to ensure that any abusive police officers should be promptly prosecuted.
NEWS/PHOTO SOURCE: News Agencies