A fleet of 260 flotilla fishing boats bearing Chinese flags have been spotted near the Galapagos Islands, having the Ecuadorian navy on alert.
Galapagos Island is a UNESCO world heritage site and the Chinese have been warned against fishing in the region and endangering the lives of rare fish species.
Marine patrolling has increased in the area to ensure the ships do not enter the area of the ecologically sensitive islands, Ecuadorian defense minister said on Thursday.
Spokesperson John Hourston told Sky News: 'The threat that the industrial Chinese fishing fleet poses to the unique and spectacular marine life of the Galapagos archipelago cannot be overstated.'
He also said the vessels were 'sucking the life from this biodiversity jewel'.
'Marine life doesn't recognise lines on a map. Unless the high seas are given protection, the ocean is in danger of becoming a lifeless desert.'
The Chinese fleet is one of the biggest seen in years off South America's Pacific coast.
The United States, whose relationship with China is currently at an all-time low, have thrown their weight with Ecuador.
The U.S. National Security Council tweeted that the U.S. stands with Ecuador "against any aggression directed toward their economic and environmental sovereignty."
However, China maintains that it is a "responsible fishing nation" with a "zero tolerance" policy toward illegal fishing. In a statement in July 23, the Chinese Embassy in Quito said that China respects Ecuador's measures to protect the environment and preserve marine resources.
But in 2017, a Chinese vessel was caught in the marine reserve with 300 metric tons of wildlife, mostly consisting of sharks, according to the BBC.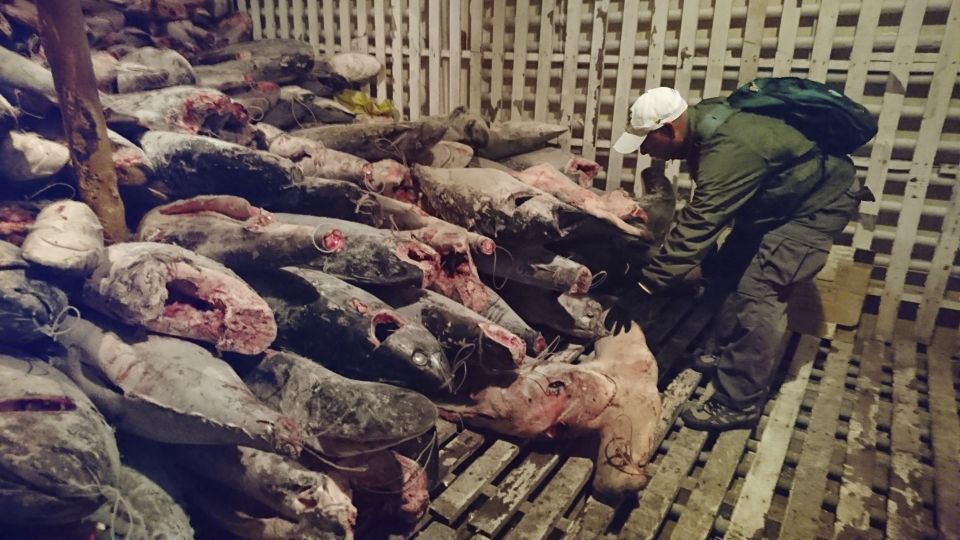 "We are on alert, [conducting] surveillance, patrolling to avoid an incident such as what happened in 2017," Ecuadorean Defense Minister Oswaldo Jarrin told reporters, the BBC reported.
The Galapagos islands are home to a large number of different aquatic species such as sharks, giant turtles, flamingos, albatrosses, etc. It had inspired Charles Darwin's theory of evolution.
NEWS/PHOTO SOURCE: AP/ World News Agencies/Sputnik