Over 100,000 defenceless Africans wiped out, livestock and farmlands destroyed and entire tribes and their cultural existence spanning thousands of years decimated
Germany's €10 million compensation offer to Namibia for its colonial horrors during the 20th century has been rejected by the South African nation.
The genocide occurred from 1904 when German troops almost wiped out the Herero and Namaqua ethnic group for revolting against their invasion.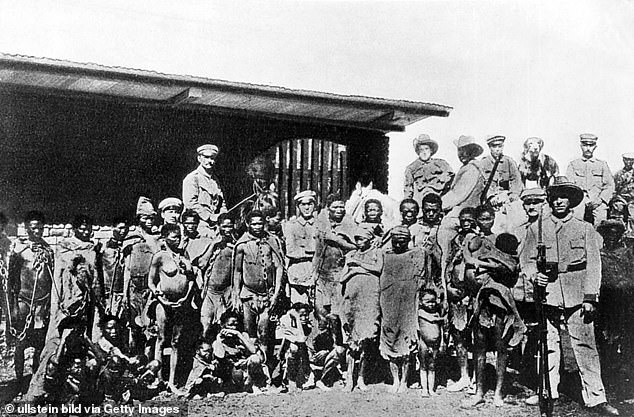 According to reports, German and Namibian officials have participated in eight rounds of talks on this issue since 2015.
Both Germany and Namibia have had sharp disagreements over the terminology used to describe the payments. Namibia insists on using the term "reparations" but Germany strangely finds the language inadequate. The German government prefers to call it "healing the wounds" money instead.
However, President Hage Geingob expressed satisfaction on the progress of the negotiations and hopes a final agreement can be reached soon.
34-year-old Namibian, Mike Uta, told The Irish Times his great-grandparents survived the genocide by fleeing to Botswana, where they lived as refugees. He said Hereros and Namas are still displaced and impoverished. Their land, which was one of the richest parts of Namibia in terms of natural resources, was taken from them, and they have since been greatly underrepresented in government, meaning they have little power. More than 100 years later, "they are still just trying to find themselves, re-establish", he said.
Colonial Penitence
King Philippe of Belgium had, in June, tendered an apology to the Democratic Republic of Congo for "acts of violence and cruelty" carried out by predecessor King Leopold during the colonial era. However, activists in the DRC are calling for reparations to follow the written and spoken apology.
In 2013, according to Irish Times, then British foreign secretary William Hague announced the United Kingdom would pay almost £20 million pounds (€22 million) to 5,228 Kenyans who were tortured by British colonial forces during the Mau Mau uprising in the 1950s, as well as contributing towards the construction of a memorial in Nairobi. The UK government, however, refused to accept legal liability for the wrongdoing.
Critics are wondering if Africans globally actually understand the reality on ground. Can a price tag via fiat-currency be put on savagery and genocide? Is the actual thought of monetary compensation an abominable insult to ancient cultures and peoples destroyed? Since reparation is a foreign concept, should Africans worldwide not institute their own unique ways of atonement?
NEWS/PHOTO SOURCE: Irish Times/EPA/Shutterstock