Taiwan's Foreign Minister Joseph Wu told US Health Secretary Alex Azar in Taipei on Tuesday that China's coercion and pressure over their Island neigbours has dramatically increased this year.
He says his country risks becoming the next Hong Kong as international leaders condemn Beijing's arrest of media figures and pro-democracy activists.
"Our life has become increasingly difficult as China continues to pressure Taiwan into accepting its political conditions, conditions that will turn Taiwan into the next Hong Kong," he said.
Hong Kong billionaire media tycoon and CEO of Next Digital has been arrested by Chinese security agents for using his network to support the pro-democracy movement. Two political activists including Agnes Chow, the co-founder of former opposition party Demosisto, were detained on Monday night along with Wilson Li, a freelance journalist with Britain's ITN network.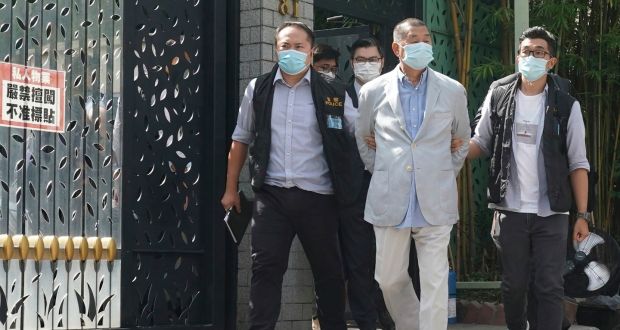 Lai's sons and four other Next Digital staff were also arrested.
Chow and Li had been accused by the Hong Kong police of "colluding with foreign elements" through their alleged involvement in a group that called for international sanctions on Hong Kong.
Police said Lai and Next Digital executives had been using foreign bank accounts. Lai, who was paraded publicly in handcuffs for the second time in two days on Tuesday, met US Vice President Mike Pence and Secretary of State Mike Pompeo in Washington in July last year at the height of the Hong Kong protests, according to WAtoday.
"It should be pointed out that no one is above the law," Hong Kong's Security Bureau said. "Anybody who violates the law must face justice regardless of his/her status or background."
Asia director at Human Rights Watch, Brad Adams, said the arrest of democracy supporters and activists was an attempt to dismantle Hong Kong's civil society.
"Under Xi Jinping, the Communist Party has long shown itself afraid of public opinion on the mainland, and is using the new national security law to try to smash Hong Kong's independent voices and settle scores with longtime critics," he said.
China's air force planes, in a show of force and superiority, had made flight into the Taiwan Strait hours after Azar's first day of high-stakes meetings in Taipei. Wu expresses fears that China has plans to turn its attention to Taiwan, after exerting its stiff communist influence on Hong Kong.
Meanwhile the US-China relations continue to deteriorate owing to multiple controversies including the Hong Kong riots, Uighur Muslim treatment, South China Sea and and stiff internet sanctions. Washington has been pressing for a greater international role for Taiwan.
Beijing considers Washington's overtures towards Taiwan as intrusive and annoying, a region the Chinese Communist Party considers a part of China to be recovered by any means necessary.
NEWS/PHOTO SOURCE: WAtoday/Reuters