The altercation and battle for supremacy between China and Taiwan went physical in Fiji, as diplomats of both countries came to blows at a swanky beachside hotel in the South Pacific country.
Officials in Taipei and Beijing on Monday gave conflicting accounts of the scuffle which went viral on social media. Injuries were sustained as each accused the other of starting the feud.
Taiwan said the Chinese government was trying to surveil its staff and guests. But Beijing said its officials were carrying out normal duties and complained that a cake at the event was decorated to look like Taiwan's flag.
China regards Taiwan as a breakaway province but Taiwan's leaders argue it is a sovereign state.
Relations between the two are frayed and there remains a constant threat of all-out combat, of which the US would certainly get involved, being a strong ally of Taiwan and an enemy of the CCP.
Taiwan's foreign ministry claimed two Chinese officials began taking pictures and trying to collect information about the guests. The Taiwanese diplomat who asked them to leave was assaulted and needed hospital treatment for a head injury, the ministry said.
"We strongly condemn the actions by the Chinese embassy in Fiji for seriously violating the rule of law and civilised code of conduct," Taiwan foreign ministry spokeswoman Joanne Ou said.
On the other hand, China presented a different narrative. Its embassy in Fiji said its staff had been in a "public area outside the function venue" carrying out unspecified "official duties" and accused Taiwanese officials of acted "provocatively" and causing "injuries and damage to one Chinese diplomat".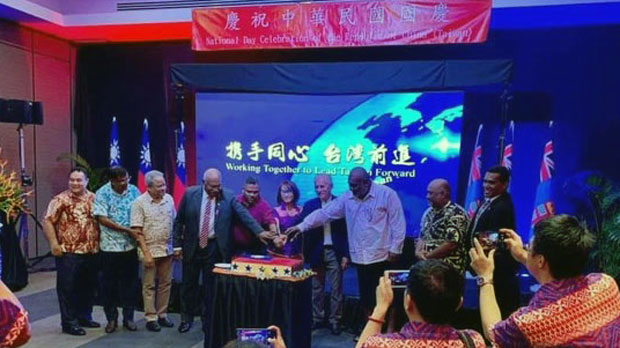 According to the New York Times, Beijing made clear that it saw the reception as a political threat. While Fiji, an archipelago in the South Pacific, is a longtime ally of Beijing, Taiwan maintains a trade office in Suva and has sought to raise its profile by investing in education and agriculture.
"There is only one China in the world, and Taiwan is an integral part of China," Zhao Lijian, a spokesman for the Chinese Foreign Ministry, said at a news conference in Beijing on Monday. He called the image on the cake at the event a "fake national flag."
"Taiwan's move is intended to create 'two Chinas' or 'one China, one Taiwan' internationally," he said.
In a statement on Tuesday, the police in Fiji said they would drop an investigation into the dispute because it was "being handled at the diplomatic level as agreed to by all parties involved."
NEWS/PHOTO SOURCE: World News Agencies/Panthermedia