Autopsy result of Ahmaud Arbery conducted the day after his death has revealed that three shotgun wounds, two of them to the chest caused his death.
TMZ reported that Coroner Edmund Donoghue classified Arbery's death as homicide. The report further noted that two close-range shotgun blasts to the chest that planted two separate groups of shotgun pellets are what killed the 25-year-old jogger.
Arbery also had a graze wound on his right wrist, TMZ said.
The autopsy, conducted on Feb. 24, the day after Arbery was killed, confirms that all three shots hit him, TMZ said.
The report also said there were no drugs or alcohol in his system, TMZ said.
The report from the Georgia Bureau of Investigations was dated April 1, even though Arbery was gunned down in February, and described his attire on the day he was murdered while jogging.
The white T-shirt, tan cargo shorts, gray athletic shoes and two tan bandanas match what can be seen in a video that emerged over the weekend of what appears to be Arbery veering off his run to scope out a new home construction site.
Minutes later, the clothes would be bloodstained after Travis McMichael, 34, allegedly shot him during a confrontation that also involved McMichael's father, 64-year-old Greg McMichael, the latter a former police officer and investigator.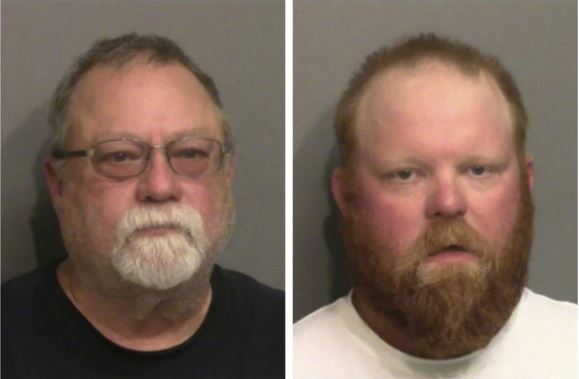 The case was inactive for nearly two months, until a graphic video of the killing appeared on social media showing the two armed white men accosting and then killing the unarmed African-American on a small road outside the rural community of Brunswick, Georgia. Within 48 hours after that, amid national public outcry, the pair had been arrested.
Now the federal government is investigating at the behest of Georgia Attorney General Chris Carr, a new special prosecutor has been appointed, and the U.S. Department of Justice is considering hate crime charges.
Atlanta mayor Keisha Lance Bottoms on Sunday called the killing an outright lynching.
The duo has been saying in their defense that they had been responding to reports of a series of burglaries in the area. However, no burglaries had been reported in the area for weeks when they ambushed Arbery.
In addition, burglary is not a capital crime.
Photo Credit: Glynn County Detention Center/Associated Press