Millions of acres in the western United States continue to burn as a result of nearly 90 large wildfires. 31 people have reportedly died from the raging inferno. The authorities are expecting the death toll to rise, as Oregon's emergency management director admitted officials are preparing for a possible 'mass fatality event'.
There are 87 active large fires that have burned more than 4.6 million acres in 10 states, according to the National Interagency Fire Center (NIFC).
California has the most fires with at least 25, the NIFC said.
More than 40,000 people in the state have been evacuated and about 500,000 are in different levels of evacuation zones, having been told to leave or to prepare to do so, Governor Kate Brown explained.
Washington state Gov. Jay Inslee strongly criticized President Trump on Monday in an open letter after the President's visit to the West Coast to discuss wildfires ravaging multiple states.
"Your refusal to address climate change — and your active steps to enable even more carbon pollution — will accelerate devastating wildfires like those you're seeing today," Inslee wrote in a Medium post.
Trump was part of a meeting earlier in the day, and dismissed a mention of hotter temperatures playing a key role in the wildfires. "It'll start getting cooler," Trump told state officials. "You just watch."
"That is false," Inslee responded in the open letter. "This abandonment of leadership has once again left the states on their own to fight this existential threat to our people."
At least 1,500 square miles have burned in Oregon during recent days – nearly double the size of a typical year and an area larger than Rhode Island, authorities said.
As the wildfire blazes, the smoke poses serious health hazards to millions as firefighters battle the deadly flames which have already obliterated some towns and displaced tens of thousands.
It has also been dubbed the 'world's dirtiest air'.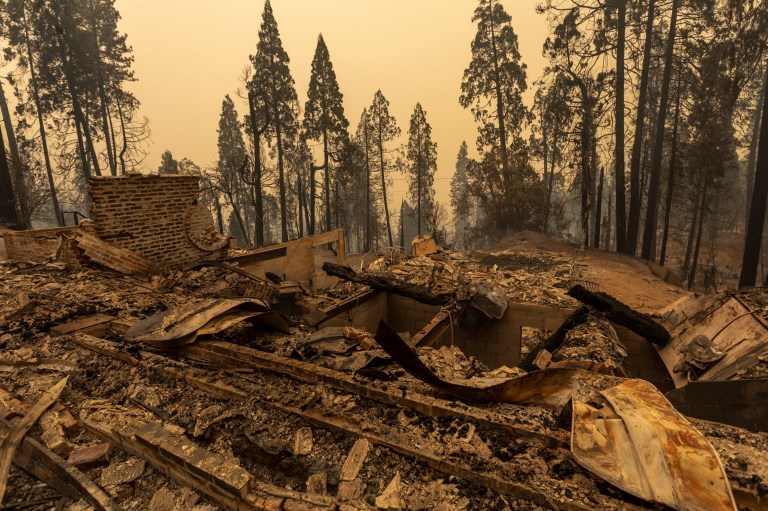 Reports say in Washington state, the land burned in just the past five days amounted to the state's second-worst fire season, after 2015, Governor Jay Inslee noted. 'This is not an act of God,' Mr Inslee said. 'This has happened because we have changed the climate.'
In all, 22 people have died in California since wildfires began breaking out across the state in mid-August.
Officials in the Pacific Northwest said they did not recall ever having to deal with so many destructive fires at once in the areas where they were burning.
NEWS/PHOTO SOURCE: World News Agencies/AFP